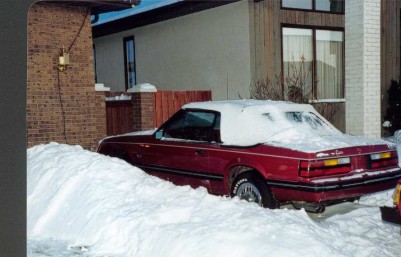 The car which is affectionately known as the "ragtop"
This car was owned by a friend's dad when I first saw it I decided right away that I would make it mine.

I had just totaled my 1977 Camaro LT ( a very nice low mileage car ) by driving half way through a Porsche 944 that thought they could turn left in front of me ( boy was she wrong ).

I had a fair amount of money that I was going to have to raise in order to buy this car but I was able to strike a deal with the owner that he would hold it until spring for me.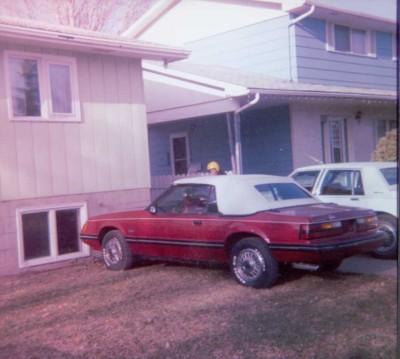 My first year of racing the car was by no means a record breaker, posting times of 15.6 and slower, but it was a great way to break into the sport of drag racing.
In 1993 the changes had begun, I started with Fords factory headers and dual exhaust from a newer model Mustang.
I replaced the 14 inch tire's and hubcaps with 15 inch 10 hole rims shod with 255-60-15 Radial T/A's on the back and 235-60-15 Radial T/A's on the front.
I also installed a K & N filter in the Dual snorkel air cleaner, and was being taught how to tune the car a little, add in having had a lot of practice driving the car I ended up running consistent 15.0's, but for the life of me I could not break into the 14's.
Season Finals 1993:
I had become obsessed with running a 14 second run, a friend of mine suggested that I take the serpentine belt off just before I run.
Well it worked!
My first run without the belt was a 14.74 with a 3 mph increase, and I was able to get it down to a 14.536 @ 92mph! This was better then I had ever dreamed that I would be able to achieve with such minor mods.
It was also one heck of way to end the season!
1994 came and went without doing anything for mods, But I was able to improve on my driving to keep me in the low 15's and a few high 14's all year long with the belt installed.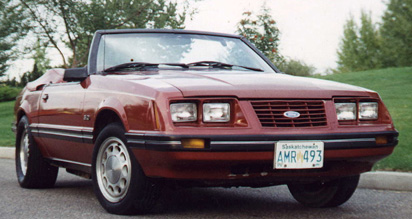 1995
Over the winter I purchased a 1988 HO Motor with a 130 000 kms, and the upgrades began with a spray can rebuild, a set of ASP street pulleys, 1 1/2 inch Hedman long tube headers, 2 1/2 inch custom bent exhaust (very poorly bent), which funneled into the factory 2 1/4 inch LX tailpipes, 3.73 gears, Lakewood traction bars, and a set of 275-60-15 Hoosiers.
I topped it all off with a Wiend Stealth intake and a Holley 600 Double Pumper.
It worked very good right out of the gate that year running very low 14's and getting a best of a 13.993 and 99.8mph.
Due to the fact that it is a Convertible, NHRA rules prohibit anyone from running quicker than 14.00 without a roll bar, so I had to slow the car down to comply.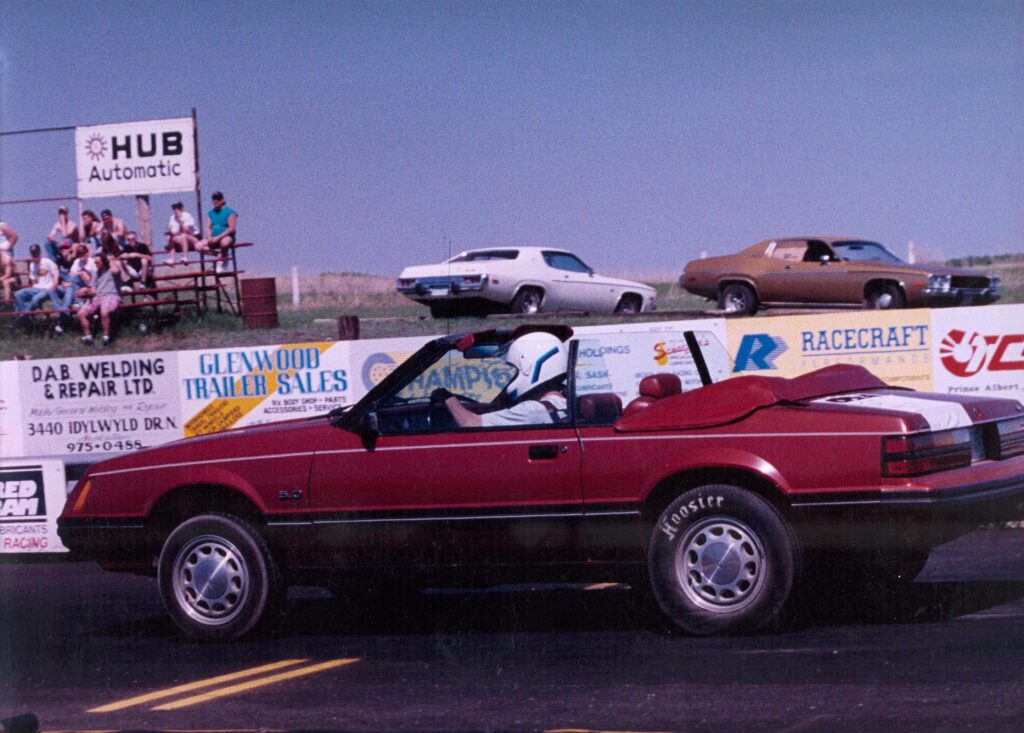 1996 & 1997
Were very slow years for me and the car I was working a schedule that made it almost impossible to make it to the track.

There were a couple of modifications in 1997 I went to a World Class T5, Ram Kevlar Clutch, Billet Flywheel, Pro 5.0 Shifter, and an 8.8 differential from a 1992 with 2.73 gears.

1998
Brought with it a new job which had me Flying out of Calgary, and with this gave me the opportunity to take in my first 5.0 Shootout, which really did not go well, due to rain.

After an incident( broken starter) at this first shootout which forced me to drive home without a starter, as I did not have the tools to fix it in Calgary, nor did I know anyone there with an engine crane that I would need in order to replace the Starter, due to the way the headers fit.

By mid afternoon the long tubes were laying on the lawn and a set of stock shorties were back in ( I may have been a little mad ).

I made it to my first real decent size race that year, The 1998 Calgary National Open where I ended up in first round against a friend of mine, who proceeded to put me out of elimination early to finish an already poor weekend.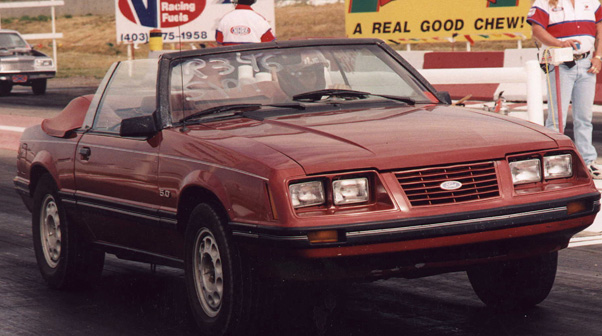 However I did find out that weekend that with 2.73 gears you can go through top end in 2nd gear at 92 mph and 7200 rpm ( I don't recommend this as I really don't know how this motor stayed together ).
I did upgrade to 1 5/8 Ford Motorsport Stainless Steel headers, but was unable to get to the track before it closed to see if they helped any.
1999 only had a change in rear gear ratio to 3.55 and a motor that was well in excess of 230 000 kms, that was really low on compression ( its not a good thing to watch your car roll down a small incline in first gear ) yet at the end of the year it ran a best of a 14.26 at 97 mph, pretty impressive considering that the car weighed in at a portly 3500 pounds with me in it.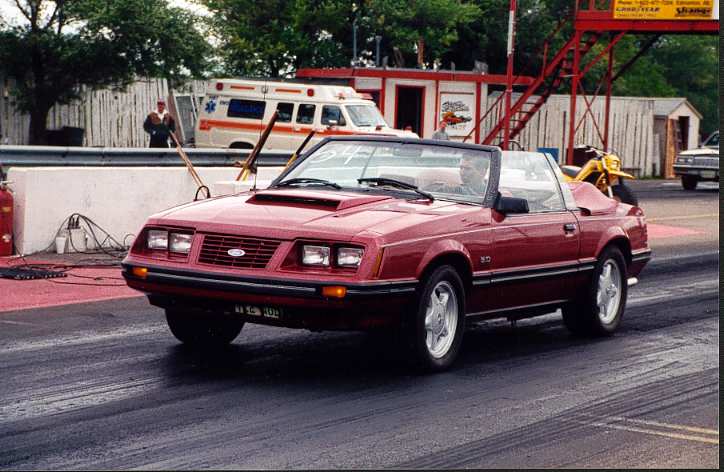 Y2K A year of Adversity.
2000
SIR 2000 was dedicated to my father who passed away suddenly on November 29 1999.

This was also the first time that I have ever put the emphasis on going rounds and being consistent instead of trying to make it faster.

Right from the start of the year I was doing better then I had ever done, I was winning rounds and running consistently.

June 17 2000

This was my first Fathers Day without my Dad, and it proved to be a very overwhelming one.

I had been having problems with my car, and on Thursday night when I got back into town, I tore it apart to find that I had a blown head Gasket, I had the heads planed on Friday and after work on Friday I started getting at it, working in a dimly lit garage, I spent a lot of time checking and double checking everything in order to ensure that it would all be good .

I was up and running right around noon so off to the track I went for the test and tune, where the car ran flawlessly, and the best # that it has run to date!

Sunday, the Fathers Day Race.

The car was running great, I was taking care of business at the tree and at top end, going round after round, this was turning out to be one heck of a day.

I was having a problem keeping my emotions in check, after 8 years I could have finally been able to call my Dad and tell him that I finally made it to the finals with my car, But of course I could not, it was too late he was no longer there.

My emotions got the better of me in the Final round, A big red bulb told me that my race was over even before it started.

That day was full of extreme high's and deep low's.

I feel that was the day that his death really sunk in for me, He was really gone and would never be back again.

The rest of the season was filled with breakage, and other problems with the car, yet I still ended up with my best finish ever, at sixth overall for the year.

My combination for 2000

I found an 88 HO motor that was supposed to be a recent rebuild ( .030 Oversize ), which I paid $400.00 for.
Ford Motorsports X 303 Cam
Mildly ported stock heads
Weiand Stealth Intake
Holley 600 Double pumper
Holley Blue pump, and Regulator
Auto Specialties Street pulleys
Ford Motorsports 1 5/8 Stainless Steel headers
MSD 6AL, with a 2 Step rev limiter
14 X 4 Inch K & N filter
1992 World Class T5 ( 3.35 first gear ratio )
Pro 5.0 Shifter
1992 8.8, 4.10 Gears
Western Motorsports X Trac Posi unit
Lakewood Traction Bars
Ram Kevlar clutch
Autometer Shift lite, and Temp Gauge
5 Point Roll bar
RCI 5 Point Harness
And the most Important piece of equipment in bringing me some consistency,
Mickey Thompson 26 X 11.5 X 16 ET Streets
This car has a full stereo system, with Premier Deck,CD Changer, Autotec Amp, 2 12 inch Rockford Fosgate subs, and speakers.

The car is 3600 pounds and was driven with an average of 20 to 30 thousand kms, with the exception of a couple of hundred kms all were TOPLESS!!!

The top only goes up when absolutely necessary ( Gale force winds/Torrential rain) It averages about 3-4 times a year, I am not kidding, I really don't like to have the top up at all.

The car does hibernate during winter.

I reached my quickest and fastest time this year @ 13.41 and 101.89mph, with a best 60 ft time of 1.81.

The year was plagued with problems, and I only had one race weekend without having major problems.
Some of the problems that I encountered during the year:
Numerous Blown Headgaskets
Broken Shifter handle bolt ( still ran well shifting without a shifter )
2 Broken Axle's
1 Broken Posi unit
Lots of different carb changes trying to find problems that in the end was a bad motor.
The year ended with a motor with hourglass shaped bores which resulted in blown head gaskets, either the tranny piled up and took the diff with it or vice a versa, So in the end I had a roller which would not roll!